YouCompli Panel
Wednesday, April 26 at 11 am PT. (Live broadcast)
W16 - Creating and demonstrating the value of regulatory compliance and shaping a culture of compliance in healthcare
Brett Short, CHC, CHPC, CHRC, chief compliance officer, UK HealthCare / Univ of Kentucky, SCCE & HCCA board member

Lisa Herota, director of compliance & privacy, Vail Health

Maeve O'Neill, a behavioral health compliance officer who has worked in and consults with behavioral health organizations
Schedule a strategic overview of the YouCompli solution
Compliance is not just a legal requirement in healthcare; it's important to providing safe, quality patient care.
White paper: Best Practices for Creating a Strong Compliance Culture and Measuring its Impact
Complete the form to receive our previous whitepaper on creating a strong compliance culture and ways to measure its impact, with advice from healthcare compliance experts.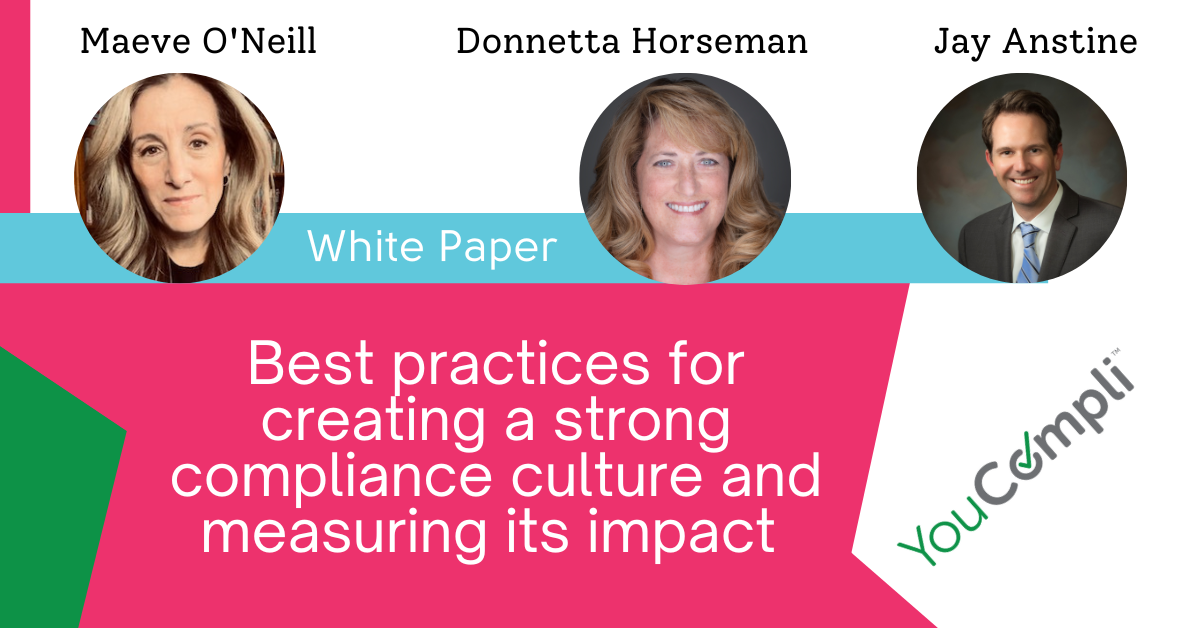 Demonstrate the value of healthcare compliance. 10 tips for leaders to successfully shape culture to help the larger organization better manage and control risk.
The Situation – Background-Assessment-Recommendation (SBAR) technique can help you make the case for investment in healthcare regulatory compliance.
Culturally impactful metrics emphasize getting healthcare compliance officers in the right rooms – ahead of regulatory change or organizational growth.
Healthcare compliance officers deliver value through regulatory change management to their organizations. Quantify that value and demonstrate it to leadership.
Avoid this million-dollar monitoring mistake. Help clinical colleagues apply their expertise to your scalable, repeatable healthcare compliance processes.
Healthcare organizations should benchmark the DOJ Evaluation of Corporate Compliance Programs (ECCP) guidance (March 2023) to assess their compliance program.
Failure to comply can cost you millions and risk reputational ruin, you can't afford uncertainty.
You need more than "updates"– you need a way to create confidence out of the chaos.
YouCompli is the ONLY compliance solution that not only monitors all regulatory changes but also transforms them into a change management solution, specifically for healthcare
Watch - Why YouCompli (90 seconds)
YouCompli is the simple healthcare compliance solution with baked-in legal analysis and expert tools.
This combination of regulatory intelligence and software helps healthcare organizations manage risk and reduce the impact of regulatory changes.