A Strong Compliance Culture Creates Value
Best practices for creating and measuring the impact of a strong compliance culture
Defining a Culture of Compliance
Indicators of Positive Culture
Pockets of Noncompliance

Four Keys to Building a Culture That Adds Value
Building Relationships and Leading as an Influencer

Emphasizing Education and Training

Embracing Metrics




Connecting Compliance to Quality Patient Care
A panel of healthcare compliance experts shares best practices for creating and measuring the impact of a strong compliance culture.
Failure to comply can cost you millions and risk reputational ruin. You can't afford uncertainty.
You need more than "updates"– you need a way to create confidence out of the chaos.
YouCompli is the ONLY compliance solution that not only monitors all regulatory changes but also transforms them into a change management solution, specifically for healthcare.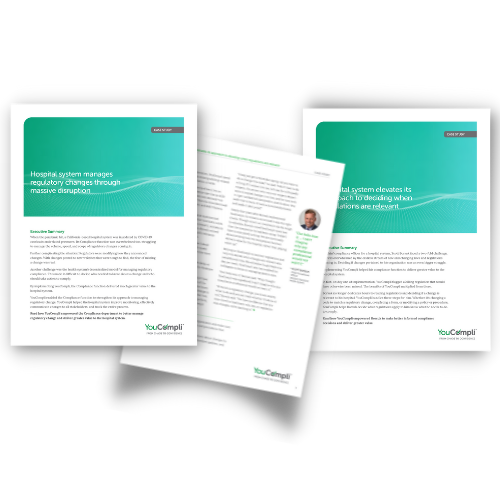 Watch - Why YouCompli (90 seconds)
YouCompli is the simple healthcare compliance solution with baked-in legal analysis and expert tools.
This combination of regulatory intelligence and software helps healthcare organizations manage risk and reduce the impact of regulatory changes.