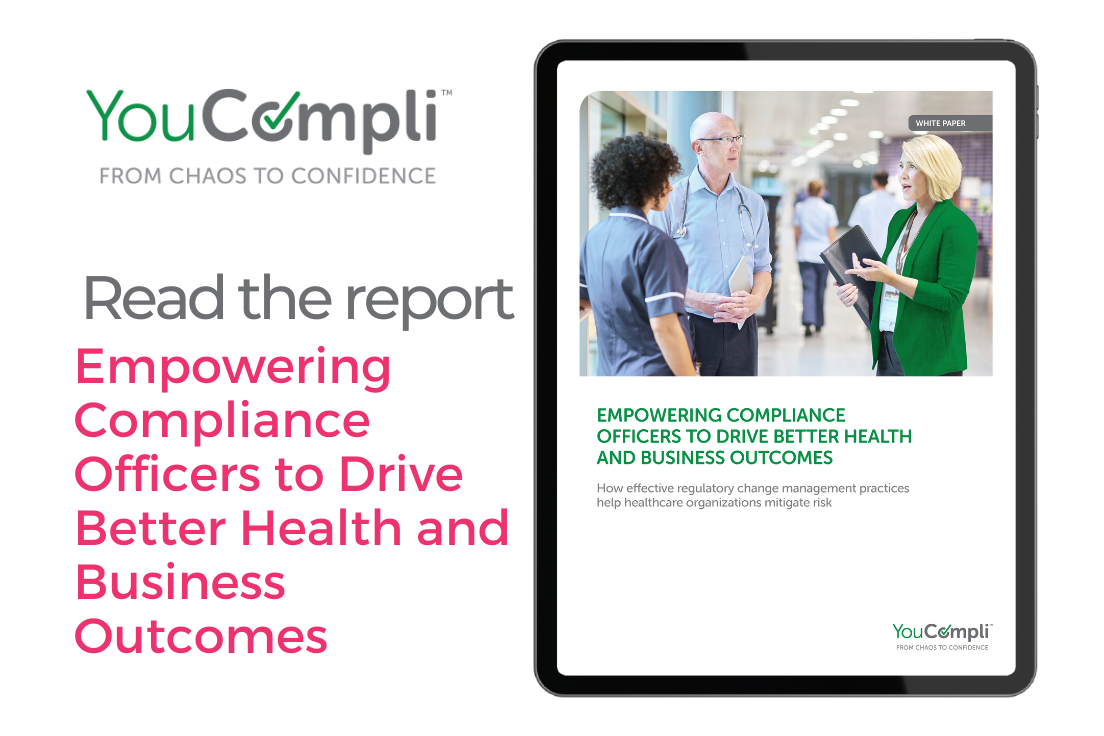 Empowering Compliance Officers to Drive Better Health and Business Outcomes
The report shares insights from our recent survey of compliance professionals and from these industry experts:
Shawn DeGroot, President, Compliance Vitals

Charles Mazer, Director of Corporate Compliance, NewYork-Presbyterian

Ken Zeko, Principal Advisor/Attorney, Hall Render Advisory Services
Read more about the findings in these articles on the YouCompli blog.
Gain four power skills for influence
The discussion generated useful tips for compliance officers to establish standard processes and develop influencer skills to help their healthcare organizations mitigate risk. Read "Four Power Skills for Influence" to learn how our experts help their healthcare organizations mitigate risk through influence.
Establish repeatable regulatory change management processes
To comply with regulatory changes your team must identify, evaluate, and implement processes and systems. It's an ongoing process that involves two essential components: strong relationships and repeatable processes. Read "Establishing a regulatory change management process" to hear what Charles Mazer, Director of Corporate Compliance NewYork-Presbyterian recommends.
Are you spending your time on the right things?
With solid relationships established, you can use your skills to sell ideas that help drive better health and business outcomes. Healthcare compliance officers often rely on the seven elements as key performance indicators to measure whether their organization's compliance goals are achieved. Yet another set of measurements – culturally impactful metrics – are equally important. Read "12 Culturally Impactful Metrics for Healthcare Compliance" to see this advice, from Ken Zeko.


Failure to comply can cost you millions and risk reputational ruin, you can't afford uncertainty.
You need more than "updates"– you need a way to create confidence out of the chaos.
YouCompli is the ONLY compliance solution that not only monitors all regulatory changes but also transforms them into a change management solution, specifically for healthcare.